It all began in the USA in 1954 with a milkshake machine salesman named Ray Kroc. Ray received an order from the McDonald brothers' hamburger outlet in California. He was fascinated by their operation – the menu was simple and inexpensive but the hamburgers were good; the fries were made in-store; and the shakes were thicker than usual.
So Ray put a proposition to the McDonald's Brothers. "Let me open new McDonald's stores and I'll give you half of one per cent of the gross sales for the use of the name and the idea."
The McDonald's brothers accepted and Ray opened his first store in Des Plaines, Illinois. He began to build the business by granting franchises to local entrepreneurs who were committed to the McDonald's principles.
By 1960 Ray had opened 200 restaurants throughout the USA. In 1961 he bought the McDonald brothers' share of the business for $3 million and in 1965 the company went public and became the McDonald's Corporation.
Today, McDonald's® has more than 30,000 restaurants in more than 120 countries on six continents. Every day, meals are served to more than 50 million people worldwide.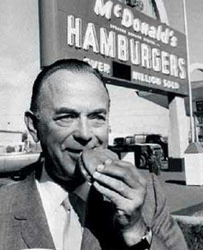 Timeline
1955 – Ray Kroc opens the first McDonald's® in Des Plaines, Illinois.

1957 – 'Quality, Service, Cleanliness and Value' (QSC&V) becomes the company motto.

1959 – A new McDonald's opens at a rate of one every five and a half days. The 100th McDonald's opens in Wisconsin.

1962 – The Golden Arches become the company logo.

1966 – Ronald McDonald® makes his first national television appearance. McDonald's stock is listed on the New York Stock Exchange.

1968 – The 1000th restaurant opens in Des Plaines, Illinois. The Big Mac® is added to the menu.

1971 – McDonald's opens its first restaurant in Australia.
1972 – The 2000th restaurant opens in Des Plaines, Illinois. The Quarter Pounder® is introduced.

1974 – The first Ronald McDonald House® opens in Philadephia, USA.

1975 – McDonald's celebrates its 20th anniversary. The Drive Thru concept is unveiled in Oklahoma.

1976 – McDonald's opens its first restaurant in New Zealand on 7 June, located in Porirua, near Wellington.

1978 – The 5000th McDonald's restaurant opens in Fujiswawa City, Japan.

1978 – McDonald's New Zealand opens its first Drive Thru, located in Lower Hutt, near Wellington.

1984 – Ray Kroc, McDonald's Founder and Senior Chairman, dies and Ronald McDonald Children's Charities (RMCC) is established in his memory.

1986 – The 9000th restaurant opens in Sydney, Australia. McDonald's opens its first restaurant near the North Pole, with the address McDonald's, Santa Claus Lane, North Pole, Alaska.

1989 – Ronald McDonald House Charities® becomes a registered New Zealand charity.

1990 – The world's largest McDonald's with 900 seats opens in Pushkin Square, Moscow. A McDonald's restaurant now opens somewhere in the world every 14.5 hours.

1991 – New Zealand's first Ronald McDonald House® opens in Wellington.

1991 – The 150th Ronald McDonald House opens in Paris.

1991 – McDonald's New Zealand serves its first breakfast customers in its Queen Street restaurant, and opens its 50th New Zealand restaurant in Chartwell Square, Hamilton.

1993 – McDonald's becomes the second most recognised brand in the world. The world's first McCafé® opens in Melbourne, Victoria.
1998 – New Zealand's first McCafé opens in the Queen Street restaurant.

1996 – McDonald's New Zealand opens its 100th restaurant, located in the Auckland University of Technology (previously AIT), Auckland.

1996 – McDonald's is invited to operate the first ever branded restaurant in the Olympic Village.

1999 – McDonald's opens its 25,000th restaurant in Chicago, USA.

2004 – The Happy Meal celebrates 25 years (1979 – 2004). Nutrition labelling is introduced to packaging on McDonald's core menu items – an industry first.

2006 – McDonald's launches the official worldwide rollout of nutritional information on product packaging.

2009 – Addition of Angus beef to the McDonald's menu with the Grand Angus® and Mighty Angus® burgers.

2010 – McDonald's New Zealand launches a free in-restaurant WiFi service.

2010 – McDonald's goes into official partnership with Weight Watchers and launches the Weight Watchers approved menu.

2011 – McDonald's NZ spends $150 million with local suppliers; $300 million in New Zealand supplies are also exported to global McDonald's markets.

2012 – McDonald's New Zealand appoints a new Managing Director. Patrick Wilson brings 27 years experience within McDonald's, starting in the company as a crew person at age 18.
2015 – Free range eggs.
2016 – Sustainable beef commitments. Dave Howse becomes MD.
2018 - Whangara Farms, Gisborne, becomes the first farm outside Europe to join McDonald's Flagship Farmers programme. 
2019 - Founding member of the NZ Roundtable for Sustainable Beef. 
2020 - Fibre straws and wooden cutlery. 

Click here to see our food